10 July 2023
We're excited to announce our presence at DigiPro and SIGGRAPH this year, where we'll be actively engaging with professionals in Production Technology, R&D, and Artists! These conferences are the perfect opportunity for us to connect, network, and share our latest industry developments.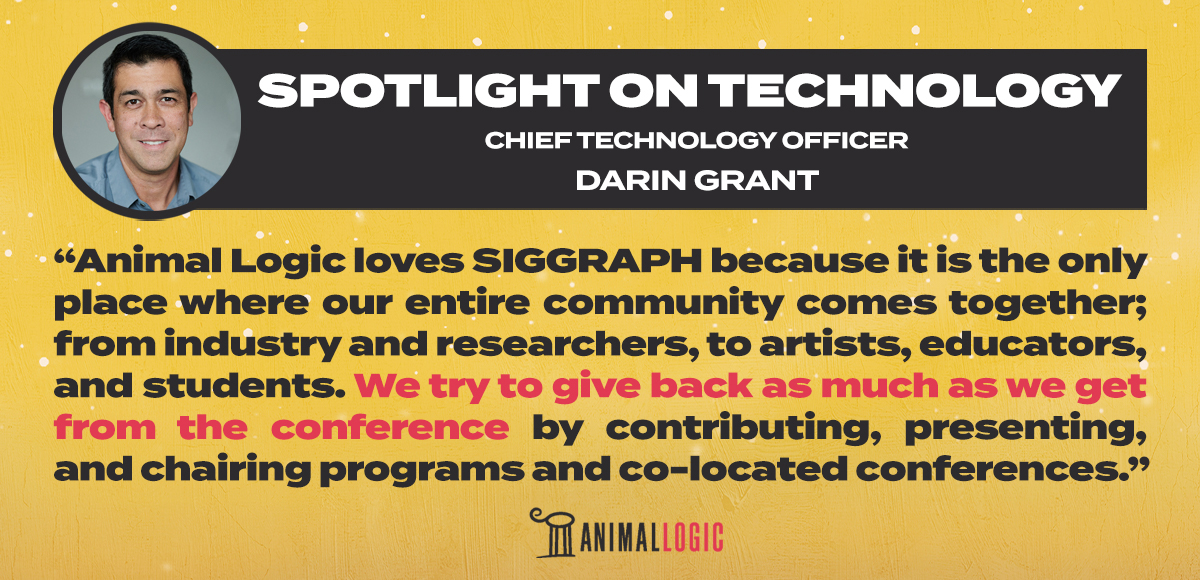 We're eager to meet you! From Tuesday, 8 August, to Wednesday, 9 August, you can register your interest to speak with our technology, artist and supervision teams about careers at Animal Logic. If you're attending SIGGRAPH, click here to show your interest, and we'll be in touch!
If you're curious about what Animal Logic's technology team has been up to in the past year, then check out these talks at DigiPro and SIGGRAPH!
DigiPro

Matte Painting a Brighter Future: A USD-Based Toolset in Nuke
Animal Logic's USD pipeline will be featured through our 3D matte painting toolset AL_USDNuke, which seamlessly integrates Nuke into our USD-centric pipeline.
Speaker: Michael De Caria, Lead Technical Director – Production Technology Imaging
Time: Saturday, 5 August 2023, 4:10pm – 4:30pm PDT
SIGGRAPH
Artist-Friendly Tools for Realistic Knitted Cloth
Weave, Animal Logic's proprietary woven fabric generation tool will be featured in this talk about implementing a system that automates the generation and placement of knitted patterns. Our Procedural Geometry & Simulation R&D team have spent the last year learning to knit!
Speaker: Curtis Andrus, Engineering Manager – R&D Procedural Geometry & Simulation
Time: Sunday, 6 August 2023, 2pm – 2:22pm PDT
Location: Room 515 B
USD in Production
As pioneering adopters of Pixar's Universal Scene Description (USD) technology, we are partnering with SideFX, Autodesk, Pixar, Weta and Disney to teach you the best practices for integrating USD into a pipeline.
Panelist: Christian Lopez Barron, Assets Supervising TD
Time: Wednesday, 9 August 2023, 9am – 12pm PDT
Location: Room 515 B
Can You See The Heat? A Null-Scattering Approach for Refractive Volume Rendering
Are fire and explosions more your thing? Then our R&D Rendering team will present some novel techniques for refractive effects inside gaseous volumes, such as heat haze, blast waves and caustics.
Speaker: Basile Fraboni, Software Engineer – R&D Rendering
Time: Wednesday, 9 August 2023, 9:22am – 9:45am PDT
Location: 411 Theater
Birds of a Feather: State of Animation Tools in the Industry & State of Rigging in the Industry
Animators, riggers, and engineers discuss animation tools, workflows and technology trends in the industry.
Co-Organiser: Valerie Bernard, Engineering Manager – R&D Animation & Rigging
Time: Monday, 7 August & Tuesday, 8 August 2023
Location: Diamond Salon III, JW MARRIOTT
Find your next exciting role!
If you can't make it to SIGGRAPH you can still explore our current open job positions to find exciting roles that align. We're always on the lookout for talented individuals to join our team! Didn't find what you were looking for among the current vacancies? Don't worry! We invite you to submit a General Expression of Interest, so we can keep you in mind for future opportunities that align with your skills and aspirations.